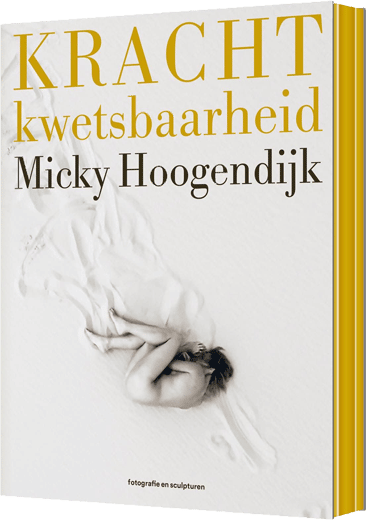 STRENGTH – vulnerability – Micky Hoogendijk, photography and sculpture
The monograph STRENGTH vulnerability – Micky Hoogendijk, photography and sculpture by Karin van Lieverloo was published by Waanders Uitgevers in 2022. "This book is not only an encounter with Hoogendijk, but also with yourself. It is proof of corresponding lives, a witness to the strength and vulnerability in all of us", says Karin van Lieverloo. In the book, she explores Hoogendijk's work in the context of the artist as a person, of the present and the past, and of art history. Never before has Hoogendijk given such a sincere, frank and intriguing account of her life and her ideas to give readers a deeper understanding of her art.
Specs
140 illustrations
Text in Dutch and English
Format: 24,3 x 31,2 cm standing
Number of pages : 192
A full color print, printed on 135 grams higher bulk  mc
Finishing: Hard cover, hardback
Cover printed in full color with extra goldfoil print
Price incl 9% VAT
Gold ink on cut, on three sides, and signed
THROUGH THE EYES OF OTHERS I SEE ME
In 2017 Uitgeverij Terra published Through the Eyes of Others I See Me, an overview of Micky Hoogendijk's photography. The book accompanied the exhibition of the same name at Museum Jan van der Togt in Amstelveen. Written contributions by Eduard Planting, Pim Milo, Stephen Macmillan Moser and Micky Hoogendijk reveal what inspires her and how she works. 

"I believe every artist has one story to tell, but that doesn't mean the story will always look the same. The story is told through the arc of our work. That is where you can see through our obsessions, you can see the fears, the desires, the cornerstones of our story."
Micky Hoogendijk
Through the Eyes of Others, I See Me
by Micky Hoogendijk is published by TERRA International distribution: Publisher Lannoo 
In The Netherlands for sale at all major (online) bookstores.

The publication is available at: http://amazon.com/author/mickyhoogendijk