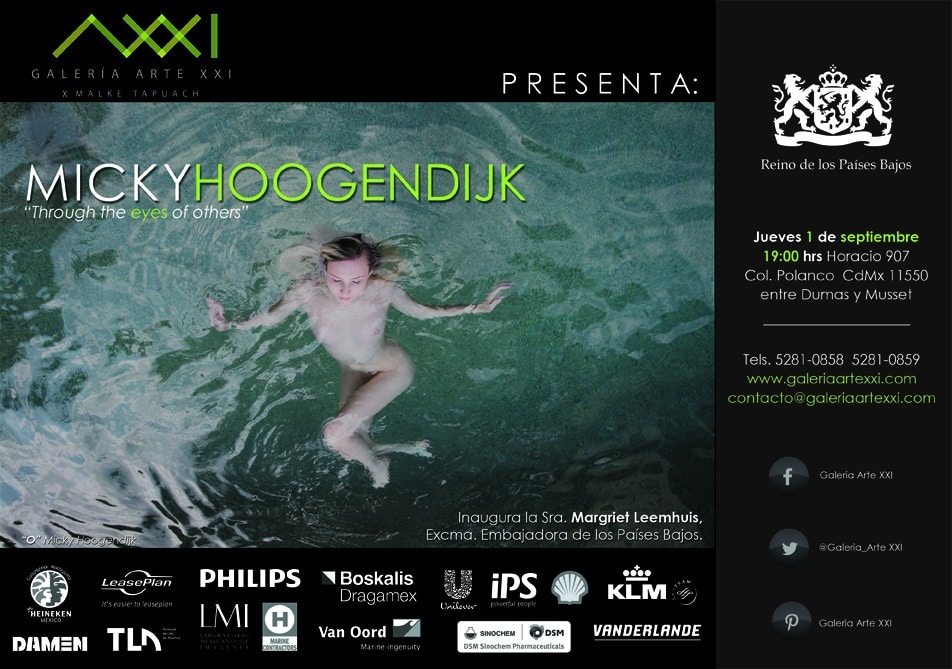 Press Release
Photographic Exhibition of Micky Hoogendijk
"A través de los ojos de los demás"
From 1 September till 15 October 2016
Galería Arte XXI, Avenida Horacio 907, Polanco
11550 Ciudad de México, D.F., Mexico
México City August 2016
The Netherlands Embassy in México and the Dutch Business community in Mexico present in collaboration with Galería Arte XXI and the Dutch artist Micky Hoogendijk the photographic exhibition "A través de los ojos de los demás" (Through The Eyes Of Others) from September 1st till October 15th 2016 at Galería Arte XXI in México-city.
Dutch culture is more than traditions: it's a way of being and of living with an own identity within diversity and tolerance. The creative sector in The Netherlands is one of the most dynamic top sectors of the Dutch economy, ranking as one of the top-10 international economic actors and being one of the fastest growing sectors of the economy.
The Netherlands Embassy supports Dutch entrepreneurs who represent openness to the world, a freedom of thinking and the entrepreneurial spirit which characterize our country and which aim at reinforcing the economy through a crossover of knowledge and culture.
This photographic exhibition of Micky Hoogendijk travels internationally on invitation by galleries and museums. This exhibition is created by Micky Hoogendijk together with The Netherlands Embassy to create a platform of The Netherlands in México which shows its openness to the world and its experience in the field of sustainability, water management and energy.
The images shown at this exhibition are a true portrait of the subjects photographed by Hoogendijk while at the same time a self portrait of the artist at that moment in her life. At the end, the portrait reflects the image of the spectator which recognizes something in the picture of his own. "Through the eyes of others".
The interest to traveling, the entrepreneurial spirit and the interest in other cultures find its origins in the XVII Century, the so called "golden century" of The Netherlands. The more Micky Hoogendijk travels and the more she encounters other cultures, the more her Dutch roots become apparent. But above all, these encounters stimulate Micky Hoogendijk to be inspired, develop new activities and to renew herself. It is precisely by looking through the eyes of another culture that Micky is creating an atmosphere in which the interchange of knowledge and experiences can occur.
"We shall not cease from exploration, and the end of all our exploring will be to arrive where we started and know the place for the first time."
T.S. Eliot