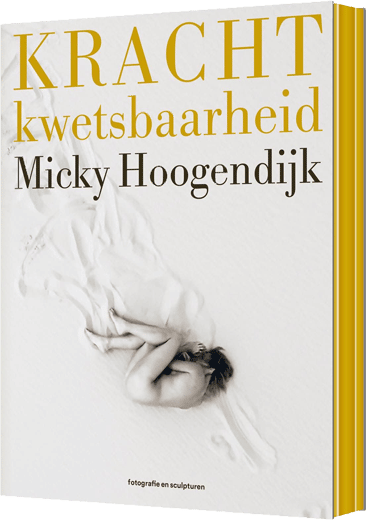 STRENGTH – vulnerability – Micky Hoogendijk, photography and sculpture
by Karin van Lieverloo
In both her photographs and her sculptures, Micky Hoogendijk shows two qualities that are important to her: strength and vulnerability. From her first photographs taken in 2012 to her latest series The Meetings of the Waters, and in her sculpture series The Ones, she always manages to inextricably link these two extremes. Hoogendijk's work tells us about the choices life has given her: carry on or break down, come to a standstill or keep moving. She chooses to celebrate life, with all her strength and in all her vulnerability, converting both joy and pain into contemporary yet timeless images. In June 2022 Waanders will publish STRENGTH – vulnerability, Micky Hoogendijk, photography and sculpture, by Karin van Lieverloo.
Specs
Format: 24,3 x 31,2 cm standing
Number of pages : 192
A full color print, printed on 135 grams higher bulk  mc
Finishing: Hard cover, hardback
Cover printed in full color with extra goldfoil print
Price incl 9% VAT
Gold ink on cut, on three sides, and signed
THROUGH THE EYES OF OTHERS
Order my book here http://amazon.com/author/mickyhoogendijk
After months of collaborating with a great team from publisher Terra Lannoo, Yvonne Twisk and book designer Bureau van der Tooren, I'm very proud to announce the launch of my first photographic art book Micky Hoogendijk
"Through The Eyes Of Others, I see me" April 2017.
The book explains my work method and creative inspiration. It contains 148 pages with my photographic art work from the past four years, an introduction by my Dutch Gallery Eduard Planting, an essay by photo-critique Pim Milo and some loving quotes by renounced photographer Terry O'Neill, author Robert Greene and fashion designer Stephen MacMillian Moser.
"Through The Eyes Of Others, I see me" is an ode to my late mother who started this journey by giving me her last gift: a camera.

"I believe every artist has one story to tell, but that doesn't mean the story will always look the same. The story is told through the arc of our work. That is where you can see through our obsessions, you can see the fears, the desires, the cornerstones of our story."

Micky Hoogendijk

Through the Eyes of Others, I See Me by Micky Hoogendijk is published by TERRA

International distribution: Publisher Lannoo 
In The Netherlands for sale at all major (online) bookstores.
You can pre order the book online. Click here

It's also possible to purchase the book in the museum gift store.